April 2020, corona times, as you can hear from my voice: youtu.be/r63K9u3HKAU
The final frontier: August 16, 1999 – present, from higher goals to even bigger missions, these are the continuing voyages of the Freudenthal group and @SLO_nl towards @curriculum_nu.
The story in Dutch:
www.beteronderwijsnederland.nl/blogs/2016/12/waar-staan-we-nu-met-het-reken-en-wiskundeonderwijs/
This summer, on the 28th of July, it will be 10 (?) years ago, that the term #eduquacks was coined  by twitter.com/P_A_Kirschner as refering to quite a few self-proclaimed educational experts. Way back, at the turn of the millennium, the NVvW (the Dutch Association of Math Teachers) had renewed its confession to Realistic Maths Education. Subsequently the reign of RME in the Netherlands became absolute, not only in primary but also in secondary education. In their own words:
www.staff.science.uu.nl/~heuve108/download-rme/VdHeuvel-Drijvers_2014_ENCYCLOPEDIA_RME-ref.pdf
Oops, that's a dead end link, good. Is the Freudental Institute cleaning up? Let's see, does
www.fisme.science.uu.nl/staff/marjah/download/VdHeuvel-Panhuizen_keynote_MERGA33co.pdf
still work? Yes. Utrecht University still has this paper in which the TAL professor discusses the opponents of RME (who) have as their leader, a professor in mathematics, who used to teach at a military academy. So no, they are not cleaning up. For the history in their own words this link still works:
www.icrme.net/uploads/1/0/9/8/109819470/rme_encyclopaediamathed.pdf
This PISA piece shows how the story continued and continues. Rekenen (arithmetic) and wiskunde (mathematics) merged into "realistic" rekenen-wiskunde, reform math if you like, and the PISA test pyramid was to guide us in our journey to the future forever. It might be argued that PISA goes way back to Katwijk, a famous village on the Dutch coast where this guy actually started his career as a highschool teacher:
It was in fact thanks to the appeal this Freudenthal Institute director-professor had at the time, that Dutch reform math became an international standard (PISA) for mathematics with the OECD. Even if you do not read Dutch, section 2 in repliekopmeer clearly indicates what RME experts have in mind when they talk about wiskunde. Or rather, what they don't have in mind: mathematics. What they did have in their minds became Dutch law: stb-2010-265 is of particular interest, pages 26-47 concern "rekenen". By the grace of God (page 1), and by the virtue of our professors in education, according to their perpetual rights. Nordic Walking appears on page 46.
How many members of Dutch parliament have ever read the nonsense they approved of? Nobody, I talked to most of them and got an honest answer from one. They believed the professors:
www.beteronderwijsnederland.nl/blogs/2011/09/diederik-stapel-een-van-de-achttien/
One of the professors signing this letter was Diederik Stapel. Since his fall from academia he has paid deerly, the others, most of them eduquackademics, are still being appointed in the usual committees installed by the Dutch ministry of education.
Of course these issues also relate to the new exam programmes for mathematics in the Netherlands, which, after 10 years of manipulations by and in cTWO (our Dutch committee for the future of math education), are now being implemented by SLO (our Dutch foundation for curriculum development).
The so-called authentic contexts and mathematical thinking activities are subject of debate. Are the contexts indeed authentic, and are they suited as didactical means for teaching/learning math? And what do we think about? Math or contexts? What do we learn when we think? Who guide us in our thinking? Can all this lead to something that makes children learn math, if that is still the intention?
Unfortunately there is no ground for such a discussion. Why not? Because the examples of contexts and directions for thinking activities presented by the group of experts implementing this reform math are usually flawed. And these flaws are in full accordance with Dutch law, Staatsblad 2010 265.
In case you do not read Dutch, it explains for instance how the price of a combined order of gevulde koeken (one of our Dutch health products)  and cups of coffee is to be calculated using spreadsheets, under the realistic assumption that both koeken en koffie are priced 1,90 Euro each. Priceless.
Implemented in elementary school, progressing further and more deeply into secundary school as we speak. Sad-eyed stories from the lowlands as @curriculum_nu continues. Comments often disabled and @SLO_nl in charge.
www.beteronderwijsnederland.nl/blogs/2018/12/comments-disabled/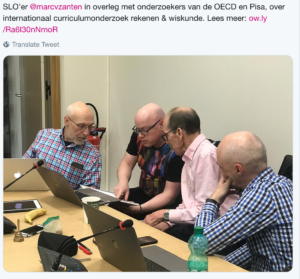 www.beteronderwijsnederland.nl/blogs/2021/04/bobos-en-bedriegers/
References
The ideology behind all this is of course well established in Dutch academy, as e.g. this thesis and references therein show:
This unscientific thesis is a key reference in the presentation of our new curricula for mathematics, see WDAgoogle. Others before me have observed, bragged and effectively shown that the ideology in this thesis is a Dutch export product:
www.gecijferdheid.nl/Publicaties/Villa_Onderwijs_Interview_Kees_Hoogland.pdf
www.fisme.science.uu.nl/staff/marjah/download/VdHeuvel-Panhuizen_keynote_MERGA33co.pdf
More about PISA (in Dutch) and RME:
benwilbrink.nl/projecten/pisa.htm
Via the last link I also found this important vision document PISAvision. It explains the ideology. 6 years later PISA and RME are going strong as ever. Wilbrink did not spend much time on reading the TAL series though. TAL was instrumental for the complete and total implementation of reform math in The Netherlands, beginning in elementary school, and set out for all of the math curriculum, upto the end of secundary school, with devastating consequences:
www.beteronderwijsnederland.nl/content/panama2015
More on reform math here:
paul-bruno.com/2014/08/reform-math-went-poorly-in-quebec/
Meanwhile in the States:
www.npr.org/blogs/ed/2014/12/29/371918272/the-man-behind-common-core-math
More in Dutch:
www.beteronderwijsnederland.nl/content/creativiteit-en-ict-wetenschap-en-praktijk
And have a look at
www.beteronderwijsnederland.nl/blogs/2014/07/hoe-realistisch-is-de-nieuwe-pabo-rekentoetsgids/.
But then again, Stanford proves me wrong of course:
web.stanford.edu/group/redlab/cgi-bin/materials/Kwek-Innovation%20In%20The%20Classroom.pdf.
For a pseudo-science case study, also in Dutch, look here:
www.beteronderwijsnederland.nl/nieuws/karin-den-heijer-over-pseudowetenschap.
—————————————————–
This blog was written long before #Schnabel2032 and all that. The author does not acknowledge the prog-trad dichotomy. Neither does he understand what the "Dutch variant of the Govean hyaena pack that is after the progressives" refers to. Or the Hirsch/knowledge crowd for that matter. Let alone the red brigades and the narrow and disingenuous that are actually pushing DI linked to knowledge as the sole solution to what ails education. The author does know one of the people referred to in a certain Red Brigades tweet.


Yours truly, www.beteronderwijsnederland.nl/blogs/2019/01/onuitroeibaar/